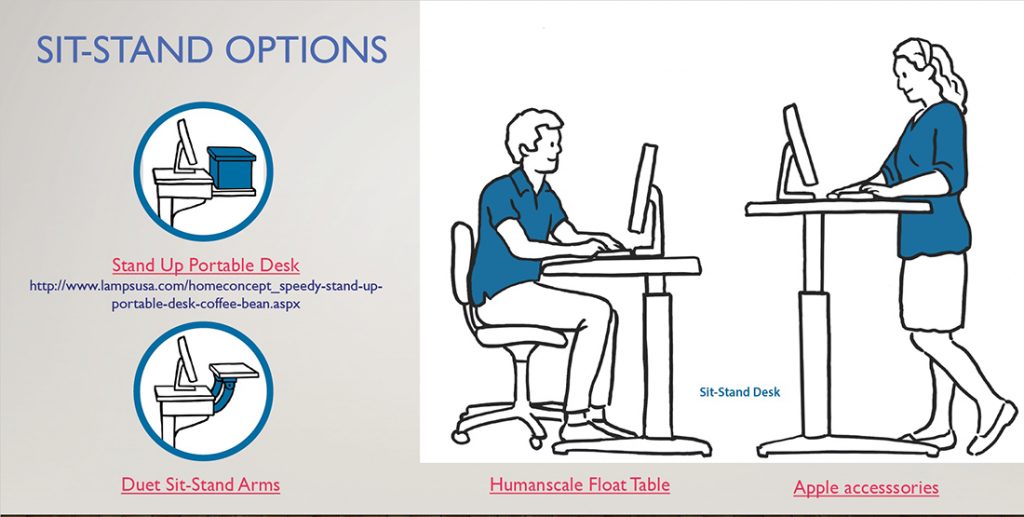 Is it time to invest in making your home or office workstation more ergonomic? If you are one of the 80% of people that experience neck or lower back pain from working on a computer, then you will be doing yourself a favor. And those headaches…they could be coming from your neck.
Recent research from the Univ. of Waterloo points to sitting for 30 minutes and standing for 30 minutes.
https://tinyurl.com/yym6a872. To avoid postural fixity, the ultimate goal is to change postures regularly.
How to do that?
At Design Interface, we started inexpensively with the Home Concept Speedy Stand-up Desk, shown in the illustration. After a year of moving a wooden box around, it was time to upgrade. The next step was to add the Duet Sit-Stand Arms to our keyboard trays. Our final upgrade was to mount our screens to articulating arms to get them at eye level. Each of these moves was after one of us sought medical attention for pain!
Another easy option is a desk riser, it sits on top of an existing desk and raises the keyboard and monitor, some for as low as $160.  Humanscale.com offers one of the most beautiful designs.
There's much more to any ideal ergonomic set-up. Here's a useful checklist: https://tinyurl.com/y3x78vsb.
Or contact me at Design Interface for help with an individualized workstation assessment.
~ Carla (Ergonomics + Design instructor, Cleveland Institute of Art)
P.S. Oh and one more thing…stop working with your laptop on the couch or bed. Your spine will thank you.